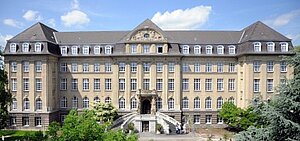 Address

Institute for Applied Mathematics
University of Bonn
Endenicher Allee 60
53115 Bonn
Germany
How to get to the Department
From the central station
Walking (15 min, 1km):

Leave the station at the rear exit (South-West). Then you are on the street called Quantiusstraße.
Turn right and follow the street with the least change of Contact for about 1km.
More precisely, after about 100 m you reach the crossing with Meckenheimer Allee: there continue straight into Colmantstraße. At the end of that street, at the traffic light, continue straight and you will be already in Endenicher Allee. Still about 600m and you will see on the right the nice building of the Mathematics Center!

Bus:

The bus stop is located on the North-East side of the train station. From there, you can take the following lines:
(a) 604, direction Ückesdorf Mitte,
(b) 605, direction Oedekoven Rathaus,
(c) 606, direction Malteser Krankenhaus,
(d) 607, direction Malteser Krankenhaus.
Exit at Kaufmannstraße stop (it takes 5 minutes with the bus). You reached us!

Of course, you can also take a taxi
From Frankfurt Airport
Go to the Airport railway station and take the first train to Bonn (after buying the ticket!). It will be either a direct train to Bonn Hauptbahnhof (along the Rhein), or by ICE on the fast-track direction Cologne. In the second case, you need to change to the tramway 66 at Siegburg-Bonn (if it stops) or at Cologne Hauptbahnhof.
From Bonn-Cologne Airport
There is an Airport shuttle (busline 670) leaving every 30 minutes to Bonn central station.
Accommodation
Hotel Mozart, Mozartstraße 1, Phone: 0228 / 65 90 71
Hotel Schwan, Mozartstraße 24-26, Phone: 0228 / 63 41 08
Hotel Krug, Im Wielsgsschen 2, Phone: 0228 / 22 58 68
Both Hotel Mozart and Hotel Schwan are located within a few walking minutes from the station. Go through the entrance-hall of the station in direction of City Centre. When leaving the station, turn immediately left and follow the road which passes under the railway. At the end of the underpass turn left in the street called Bachstraße. The next street on the right is Mozartstraße.
You can also take the bus (numbers 622, 623 or 632) and exit at the bus stop Bachstraße (two stops from the station) and you walk a little bit back the street to the hotel.
Hotel Krug. You can take a taxi at the station or you can go by bus (bus numbers 620, 624, 625 or 627) to Poppelsdorfer Platz. Cross the street at the traffic lights, and turn into Sternenburgstraße. In the small street on the left side is Hotel Krug.
You can also reach our Department from the Hotels Mozart and Schwan by foot in a few minutes. Walk from the hotel up Bachstraße until you reach the traffic light at the Baumschulallee. Then you are on Beethovenplatz. From Beethovenplatz you go along Endenicher Allee until Endenicher Allee 60.
Also, our institute can be reached from Hotel Krug in a few minutes. Go to the corner Sternenburgstraße at the traffic lights, then turn right and walk along Clemens-August-straße passing the Botanical Garden. Opposite to the Botanical Garden turn into Nussallee. At the crossing of Nussallee and Endenicher Allee, look left, you'll see our building.